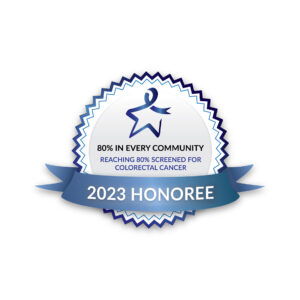 Kintegra Health is proud to be among this year's recipients of this year's  80% In Every Community National Achievement Award.
The American Cancer Society National Colorectal Cancer Roundtable (ACS NCCRT), founded in partnership with the Centers for Disease Control and Prevention (CDC), honored five organizations for their exceptional work to increase colorectal cancer screening rates across the U.S. with 2023
Colorectal cancer is the third leading cause of cancer death in both men and women in the U.S. While screenings for colorectal cancer are an important step in saving lives, only 59% of adults aged 45 years and older are up to date with screenings
The 80% in Every Community National Achievement Awards is a program designed to recognize individuals and organizations who are dedicating their time, talent and expertise to advancing needed initiatives that support the shared goal to reach colorectal screening rates of 80% and higher in communities across the nation. The awards include one grand prize winner and four other honorees, each of whom receives a monetary award to support continued efforts to increase colorectal cancer screenings.
In addition to Kintegra Health, this year's awardees are: CommUnityCare Health Centers & Dell Medical School at The University of Texas at Austin, Austin, TX; Colorado Cancer Screening Program, Denver, CO;  Ohio Association of Community Health Centers, Columbus, Ohio; and Virginia Mason Franciscan Health, Seattle, WA.
For more information about this important work and the 80% in Every Community Award, visit:
Share the webcast replay and slides are now available in the NCCRT Resource Center: https://nccrt.org/resource-center/