Have Questions About Medicaid Expansion?
Kintegra Staff can help!
(este mensaje tambien esta en Español abajo)

Beginning December 1, 2023, NC Medicaid will cover people ages 19 – 64 years with higher incomes.
Many North Carolinians who did not qualify before may now be eligible.
Most people will be able to get health care coverage through Medicaid if they meet the criteria below.
You live in North Carolina
Age 19 through 64
You are a citizen (some non-U.S. citizens can also get health coverage through Medicaid)
If your household income fits within the chart below: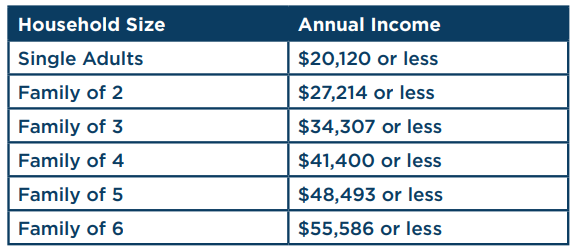 Qualified Medicaid Immigration Status include:

Lawful Permanent Residents (LPR/Green Card Holder)
Asylees
Refugees
Cuban/Haitian entrants
Paroled into the U.S. for at least one year.
Conditional entrant granted before 1980.
Battered non-citizens, spouses, children, or parents

Victims of trafficking and his or her spouse, child, sibling or parent or individuals with a pending application for a victim of trafficking visa
Granted withholding of deportation
Member of a federally recognized Indian tribe or American Indian born in Canada.
Citizens of the Marshall Islands, Palau and Micronesia who are living in one of the U.S. or territories (referred to as Compact of Free Association or COFA migrants)
You may select one of four ways to apply:
Schedule an appointment for ePASS application assistance with a Community Resource Advocate by

calling 704-874-3316.

Apply by yourself online through epass.nc.gov
Call your local DSS office or in-person at DSS http://ncdhhs.gov/localDSS
Paper application http://ncgov.servicenowservices.com/ (Longer processing time)
When you make an appointment to apply for Medicaid, make sure you can provide one document from each category per Medicaid guidelines:
Full legal name and Date of Birth (birth certificate, passport, photo ID)
Social Security Number (social security card or copy, another official document containing your name and SSN, or military ID card)
Proof of NC residency (utility bill, lease/mortgage agreement or car registration)
Household Income (recent paystubs, W-2 form, tax records, or business records)
Citizenship (birth certificate, copy of VISA, immigration documents)
For Information about Medicaid Expansion in NC, visit: NC Medicaid
———————————-
¿Tiene preguntas sobre Medicaid?
Nuestra personal puede ayudar
A partir del 1 de diciembre de 2023, NC Medicaid cubrirá a personas de 19 a 64 años con ingresos más altos.
Muchos habitantes de Carolina del Norte que antes no calificaban ahora pueden ser elegibles.
La mayoría de las personas podrán obtener cobertura de atención médica a través de Medicaid si cumplen con los criterios a continuación.
Vives en Carolina del Norte
Edad de 19 a 64 años
Es ciudadano (algunos ciudadanos no estadounidenses también pueden obtener cobertura médica a través de Medicaid)
Si los ingresos de su hogar se ajustan al cuadro a continuación: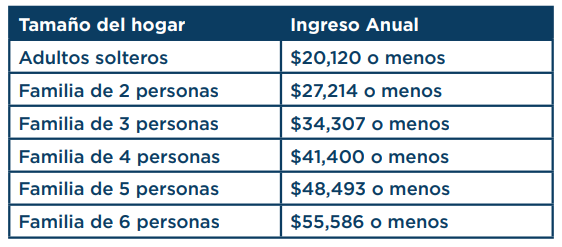 El estado de inmigración calificado de Medicaid incluye:

Residentes permanentes legales (LPR/titular de la tarjeta verde)
Asilados
Refugiados
Participantes cubanos / haitianos
En libertad condicional en los EE. UU. durante al menos un año.
Entrada condicional concedida antes de 1980.
No ciudadanos, cónyuges, hijos o padres maltratados

Víctimas de trata y su cónyuge, hijo, hermano o padre o personas con una solicitud pendiente de visa de víctima de trata
Se concedió suspensión de deportación
Miembro de una tribu india reconocida a nivel federal o indio americano nacido en Canadá.
Ciudadanos de las Islas Marshall, Palau y Micronesia que viven en uno de los EE. UU. o territorios (denominados Pacto de Libre Asociación o inmigrantes COFA)
Puede seleccionar una de las cuatro formas de presentar la solicitud:
Programe una cita para recibir asistencia con la solicitud de ePASS con un defensor de recursos

comunitarios llamando al 704-874-3316

.
Solicite usted mismo en línea a través de epass.nc.gov
Llame a su oficina local del DSS o en persona al DSS http://ncdhhs.gov/localDSS
Solicitud impresa http://ncgov.servicenowservices.com/ (tiempo de procesamiento más largo)
Cuando solicita Medicaid, asegúrese de poder proporcionar un documento de cada categoría según las pautas de Medicaid:
Nombre legal completo y fecha de nacimiento (acta de nacimiento, pasaporte, identificación con fotografía)
Número de Seguro Social (tarjeta de seguro social o copia, otro documento oficial que contenga su nombre y SSN, o tarjeta de identificación militar)
Prueba de residencia en Carolina del Norte (factura de servicios públicos, contrato de arrendamiento/hipoteca o registro de automóvil)
Ingresos del hogar (recibos de pago recientes, formulario W-2, registros de impuestos o registros comerciales)
Ciudadanía (acta de nacimiento, copia de VISA, documentos migratorios)
Para obtener más información sobre la expansión de Medicaid en Carolina del Norte, visite: NC Medicaid