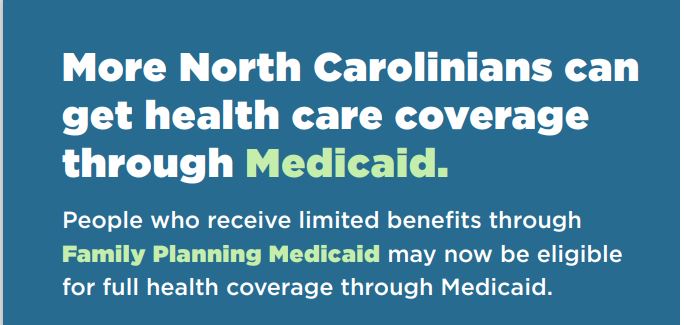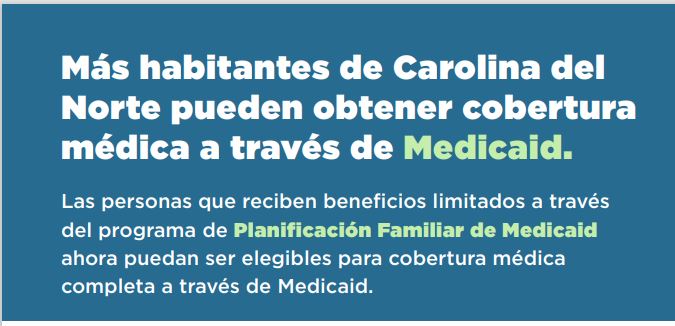 (este mensaje tambien esta en Español abajo)
If you receive limited benefits through Family Planning Medicaid, you may now be eligible for full health coverage through Medicaid.
New Benefits will be Effective only after December 1 2023
How will you know if you can get full health coverage through NC Medicaid?
You will get a letter from your local Department of Social Services letting you know that you will start getting full Medicaid coverage.
You will then be assigned a health plan, and your health plan will send you a packet in the mail. It will include a new Medicaid ID card (if you want to change your health plan, you have 90 days to pick a new one).
Your ID card also has the name of your primary care provider.
Kintegra would like to continue to provide care for you! 
Once you have received your new ID card, if your Kintegra provider is not listed as your primary care provider, you can change to Kintegra easily!
You can choose one of these three ways:
Contact your insurance plan.
Call the Medicaid Enrollment Broker at 833-870-5500.
Choose the Provider Change Form from the list below and fax it to the number provided on the form. OR, simply bring it to your nearest Kintegra Health practice, and we'll help fill it out, and we'll send it in for you!
Choose the Provider Change form that matches your Medicaid Plan:
Healthy Blue NC
AmeriHealth Caritas NC
Carolina Complete Health
United Healthcare Community Plan of NC
WellCare of NC
For more information about Family Planning Medicaid, click here
For information about Medicaid expansion in NC, visit:  Q&A about Medicaid Expansion
————————–
Si recibe beneficios limitados a través de Medicaid de planificación familiar, ahora puede ser elegible para una cobertura médica completa a través de Medicaid.
¿Cómo sabrá si puede obtener cobertura médica completa a través de NC Medicaid?
Recibirá una carta de su Departamento de Servicios Sociales local informándole que comenzará a recibir cobertura completa de Medicaid.
Luego se le asignará un plan de salud y su plan de salud le enviará un paquete por correo. Incluirá una nueva tarjeta de identificación de Medicaid (si desea cambiar su plan de salud, tiene 90 días para elegir uno nuevo).
Su tarjeta de identificación también tiene el nombre de su proveedor de atención primaria.
¡A Kintegra le gustaría seguir brindándole atención! 
Una vez que reciba su nueva tarjeta de identificación, si su proveedor de Kintegra no figura como su proveedor de atención primaria, ¡puede cambiar a Kintegra fácilmente!
Puedes elegir una de estas tres formas:
Comuníquese con su plan de seguro.
Llame al agente de inscripción de Medicaid al 833-870-5500.
Elija el formulario de cambio de proveedor de la lista a continuación y envíelo por fax al número proporcionado en el formulario. 

O simplemente tráigalo a su consultorio de Kintegra Health más cercano, le ayudaremos a completarlo y se lo enviaremos.
Elija el formulario de cambio de proveedor que coincida con su plan de Medicaid:
Healthy Blue NC
AmeriHealth Caritas NC
Carolina Complete Health
United Healthcare Community Plan de Carolina del Norte
WellCare de Carolina del Norte
Para obtener más información sobre Medicaid de planificación familiar, haga clic aquí
Para obtener información sobre la expansión de Medicaid en Carolina del Norte, visite:  Preguntas y respuestas sobre la expansión de Medicaid