Kintegra is working hard to provide our patients and community members with access to the information and tools needed to keep healthy during these challenging times.  This COVID-19 response page provides guidance on mitigating exposure, and information regarding access to testing locations and vaccinations.  With guidance from the CDC and NCDHHS, Kintegra works closely with local Health Departments and community partners to keep the community informed and increase access to these services.  Please visit this page for regular updates.
Keeping Healthy at Home
The best advice for all of us is the 'Three Ws'.  Here's and important message from Dr. Mandy Cohen, Secretary for the NC Department of Health and Human Services.
Safety Measures during your visit
Kintegra has taken a variety of measures to help keep our patients and staff safe during the COVID-19 pandemic.  Check out this important information on what to expect during your visit!
Safety Measures in Place at Kintegra Practices
Safety Measures for Patients to Follow
COVID Testing
Helping people know if they have COVID-19 or may have been exposed is critical to ensuring they have the resources and support they need. Here is some guidance on who should get tested.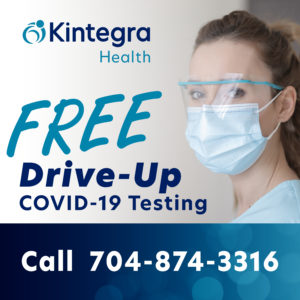 https://covid19.ncdhhs.gov/about-covid-19/testing
Kintegra offers FREE drive-up COVID testing.  For information, visit:
https://www.kintegra.org/covid-19-testing-at-kintegra/
COVID Vaccination
Kintegra is committed to facilitating  access to the COVID vaccine for the patients and communities we serve.  Working with hospitals, Health Departments and other community partners, and as vaccine allocations permit, we are making connections:  providing access to vaccinations, either directly in clinic for patients, or through community events.
For information on COVID Vaccinations at Kintegra, visit:
https://www.kintegra.org/covid-vaccinations-at-kintegra/
Additional Resources
For more information about the vaccine, visit the CDC's COVID-19 Vaccine FAQ at https://www.cdc.gov/coronavirus/2019-ncov/vaccines/faq.html and information from the NCDHHS at https://covid19.ncdhhs.gov/vaccines
The NCDHHS offers a COVID-19 Helpline, at 1-888-675-4567.  Callers can get help with general COVID-19 questions, information on vaccination eligibility groups, clinical questions about the vaccine, and assistance in finding vaccine locations and transportation to these locations.
Discussing Fact vs. Fiction about the COVID-19 Vaccine:
Watch a recording of the LIVE Town Hall panel discussion, featuring Freida Mitchell, FNP-C from Kintegra Family Medicine-Kings Mountain
Click here to view: https://www.facebook.com/donniethurmanjr/videos/4134556926554306/?d=n