COVID-19 Testing & Vaccinations will be
closed from 12 p.m. on October 5, 2022.
(Will resume normal hours on October 6, 2022.)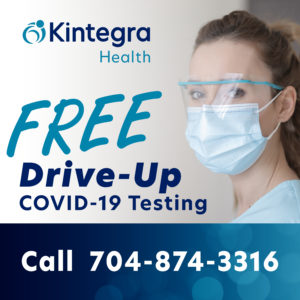 Gaston County
Kintegra offers free drive-up COVID-19 testing DAILY, Monday-Friday from 8:30am – 3:00 pm at Kintegra Family Medicine – Highland, at 609 N. Highland St, Gastonia 28052.  No appointment required.
In addition, here are some great resources available from NCDHHS for finding treatments, testing, and vaccine sites across NC.
Treatment Finder  https://covid19.ncdhhs.gov/FindTreatment
Testing Finder (Community Testing) https://covid19.ncdhhs.gov/about-covid-19/testing/find-my-testing-place/no-cost-community-testing-events
Testing Finder (Sites) https://covid19.ncdhhs.gov/about-covid-19/testing/find-covid-19-tests/find-covid-19-testing-site
Vaccine Finder https://covid19.ncdhhs.gov/vaccines