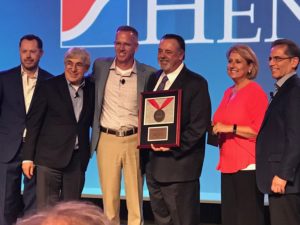 GFHS is honored to be awarded the  2017 'Henry Schein Cares' Bronze Medal in the Oral Health Care Category.    Accepting the award on behalf of GFHS were Dr. William Donigan, Dental Director and Melissa Boughman, Dental Access Coordinator.  See Henry Schein's Press Release Announcing the award here.
Here's a description from the Henry Schein Foundation about the Henry Schein Cares Medal:
"Henry Schein believes in the concept of doing well by doing good. We also know that we cannot do good by ourselves. Our work is enriched by the dental, animal health and medical practitioners who volunteer their time and talent to care for those in need. To celebrate their work, and to encourage others to follow in their footsteps, we have established the Henry Schein Cares Medal, which recognizes excellence in expanding access to health care for the underserved."
For more information about the Henry Schein Cares Foundation, click Henry Schein Cares
Congratulations to the other winners in the Oral Health Category: Interfaith Dental Clinic of Nashville, TN and Community Dental Care, Maplewood MN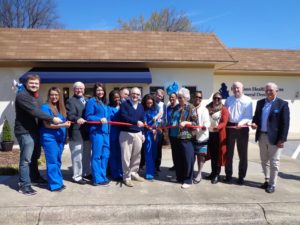 Davidson Health Services General Dentistry officially celebrated its Grand Opening with an Open House and Ribbon-Cutting ceremony on March 23.  The new facility on 32 Kirkwood Avenue in Lexington NC provides dental care for children and adolescents.  click here for more information about our clinic and the services offered and to make an appointment!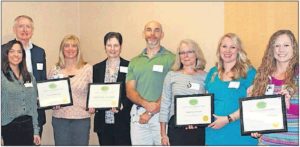 GFHS is proud to be one of four organizations which are the first ever to achieve the Healthy Gaston Gold Level.  Read the full article appearing in the Gaston Gazette on 12 19 2016 by clicking here.
GFHS is  proud to receive Gaston Chamber's Commerce award for Business of the year 2016  in the category of businesses with 51+ employees.  Click here for the story reported in the Nov 4 edition of the Gaston Gazette.
The August 22 2016 article in the HEALTH section of the Gaston Gazette highlights the GFHS Wellness Program, our participation in the Gaston Community Healthcare Commission's Healthy Gaston Initiative, our current Healthy Gaston Silver Level status and a personal GFHS staff member success story.
 The August 12 2016 edition of the Lincoln Times-News featured an  interview with CEO  Robert Spencer who shared GFHS' plans for expansion at Helping Hands Center, and introduced HHHC's newest provider, Dr. Doug Meardon who joined the team in August.  Click below to read the full article. 
 Click below to read full article.
Helping Hands in Lincoln Times-News
Privacy & Cookies: This site uses cookies. By continuing to use this website, you agree to their use.
To find out more, including how to control cookies, view our Privacy Policy.